Simple & Compliant Online Customs Clearance
Solutions for Canadians shipping to the USA

The Fastest
Customs Clearance Service Available

Transparent Pricing

Live Agents
Working directly with you

Coast to Coast
We clear all U.S. Ports of Entry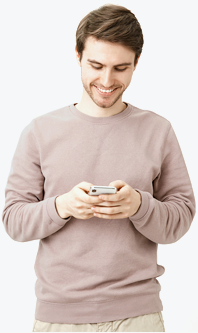 So How does it work?
Clearit will register your company as a non-resident importer and obtain a U.S. Importer number at no cost to you

1. Get Started
Create your free account with no up front costs or maintenance fees & complete the digital Clearit power of attorney

2. Submit your customs clearance request
The Customs Clearance wizard will ask you basic information about your shipment and advise you of required documents to upload.

3. Virtual shipment workspace
Our team will review your submission and notify you via our virtual workspace (service ticket) if any further documents or information are required. All communication regarding this shipment will be posted here and you will be notified by email.

4. Your Customs Clearance is processed
Your agent will create your customs declaration for submission directly to U.S. Customs via our secure Electronic Data Interchange (EDI).

5. Payment
Clearit is a C.O.D service; prior to submission to U.S. Customs a credit card payment is required. This payment includes:
Duties If applicable
Customs fees If applicable
Brokerage fee
Freight and warehouse payments Upon request
Disbursement fees If applicable

6. Release of goods
Once your clearance has been confirmed by U.S. Customs, you will receive copies of your Customs accounting documents such as the 7501, 3461, ACE release & Delivery order (upon request). Your goods are released and ready for pick up or delivery.
Start clearing customs now.
Pricing
Zero upfront costs. No account fees, just pay per clearance
Truck
OCEAN

Air
Bonds: Bonds can be purchased online during account registration or at any time via your Clearit account.
Single-Entry Bond:
$5.00 USD per $1,000.00 USD value of shipment.
(Min. $40.00) + $35.00 Prep.
Continuous (Annual) Bond:
**Please note shipments requiring FDA, EPA, Alcoholic Beverages, CPSC, Toys, Fireworks, USDA, TSCA (Liquids & Chemicals) require a tripling (3x) of invoice value in order to calculate bond requirements
REMOVE THE BORDER
Clearit USA's non-resident importer program removes the border between you and your US customer and allows you to offer products landed duty paid.
That means no more surprise brokerage bills and a complete removal of the import process for your client.
Still not convinced?
Clearit is the #1 rated digital Customs Brokerage service for a reason
Communication is our priority
Communication is paramount not only to Clearit USA, but to Customs Brokerage and logistics as a whole. That's why we offer multi-channel communication, keeping you and the rest of your supply chain up to date every step of the way.
Quick & Compliant
Clearit USA prides itself on the ability to act quickly & efficiently while maintaining compliance. Using our proprietary software and "swarm" approach, we can ensure no detail is overlooked and offer the quickest turnaround time in the industry, guaranteed.
Available now, when you need us
Traditional brokerage models are antiquated – It can take days just to activate an account. You want to work with a Customs Broker that can work at the speed of today's business.
With Clearit technology you get:
Ready account activation within minutes
Document upload with visual confirmation
Live chat sessions throughout the lifetime of your shipment
Transactional & Transparent
Clearit prides itself on pioneering the online customs clearance industry.
1. First fully transactional customs brokerage website:
From account creation and document upload to online bill payment. Clearit's state of the art platform is continuously evolving to provide users the best experience in the business.
2. Transparent pricing:
We were the first to post our pricing and today offer a menu of pricing that optimizes cost for all user types. Avoid the hidden charges common in the industry.